ABSIMA Yucatan er en 1:8 Ready-To-Run (RTR) Crawler i premium klasse. Kvalitet fra A-Å..
Fra produsenten ABSIMA..
Portal axles not only offer a greater distance from the differential housing to the ground than conventional axles, they also have another positive feature. In conventional crawlers, torque applies so much force that the vehicle jumps over the obstacle. The design of portal axles reduces the gear ratio at the wheels and virtually eliminates torque shocks from the drive. The overall reduction ratio of the axle drive is more than double that of non-portal designs to ensure smooth running.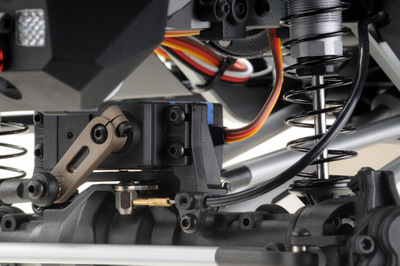 A unique hydraulic steering shock absorber design combined with a 20kg (actuating force) digital and waterproof steering servo with aluminum servo arm allow a steering angle of up to 43°.
3x 0.9kg mini servos for the 2-speed transmission and the differential locks/unlocks are already installed. All servos are waterproof.
The YUCATAN Crawler has a 2-speed manual transmission that lets you overcome difficult terrain and also get to the next obstacle quickly. Simply press a button on the remote control and switch from the standard 1/37.1 (low-speed) to 1/15.1 (high-speed) gear ratio.
Lock and unlock the front and rear differentials independently for maximum performance on the track – all controlled remotely with your radio and 2 built-in mini servos.
Leave the differential unlocked for smooth handling at high-speed. On technically challenging trails, you can lock the front differential, the rear differential, or even both to handle extreme terrain.
An aluminum motor mount and adjustable slipper clutch provide added protection in extreme conditions.
Hardened steel differential gears and drive parts – designed for high loads.
The drive concept – powered by HOBBYWING – includes an 80A (440A peak) waterproof speed controller and a 775 motor.
With an optionally available program box, 15 different parameters can be set:n:
Run. Mode / Bat. Typ / Initial Start Force / Max. Forward / Max. Reverse / Max Brake / Drag Brake / Drag Brake Rate / Neutral Range / Punch / PWM Frequency / BEC V / Freewheeling
The battery box has the dimension of approx. (L/W/H) 160x48x25mm and is thus designed for 2S or flat 3S LiPo batteries which also corresponds to our recommendation.
In 3S LiPo battery operation +30km/h can be reached! Thus, this crawler is probably the fastest off-road vehicle of its kind.
ATTENTION: The speed controller is also "4S LiPo" capable which we absolutely do not recommend! The vehicle (gearbox, axles…) is exposed to extreme force transmission in 4S operation. Also the handling of the crawler deteriorates with increasing speed which can lead to accidents and costly damage (no warranty claim).
The 6-channel 2.4 GHz radio system gives you total control over your vehicle – whether it's the light unit, 2-speed transmission, differential locks or setting the top speed.
Front headlights with "evil eyes"
Rear lights
Turn signals (for steering movements)
Marker lights
Hazard warning lights (front and rear)
Brake light
Light bar on the roof
The light unit is built into the 6-channel receiver of the vehicle. You want to use another 6-channel remote control without losing the lighting functions? No problem! You will find a description of how to proceed in the manual.
Stylish 2.2-inch beadlock wheels with aluminum rings and 12-bolt design.
Super soft tires with realistic sidewall flex for maximum traction on any rock.
12mm aluminum standard wheel hubs fit all standard crawler rims (note portal axles!).
Rocksliders and molded inner fenders protect the chassis from dirt and damage.
1.2mm PC "flip-top" body with magnetic and screw mounts.
Complete interior incl. driver figure.
Tow hook (front and rear)
Rear view mirror
Snorkel
Full size spare wheel
Roof rack
Fuel filler neck
Door handles
Hood mounts
License plates#
CAR SPECS:
Length: 635mm
Width: 290mm
Height: 300mm
Ground clearance: 95mm
Wheel base: 370mm
Gewicht: 4200g
Approach angle: 65°
Departure angle: 48°
Steering angle: 43°
Wheels: 2.2″ Beadlock-Wheels with 12mm Hex-Hub
Tires: 50x132mm including foam inlay
Shock absorber length: 100mm
Viscosity shock absorber oil: 500cps
Transmission ratio: 2-speed (Hi 1/15.1 / Lo 1/37.1), remote controlled
Gears: Modul 0.8/32dp – Pinion 16Z / Main gear 44T
Drive system: 4WD
ELEKTRONIC SPECS:
Speed controller (ESC): Hobbywing 80A brushed/waterproof with T-plug, programmable, BEC 6V@4A, 2S-3S* LiPo suitable
Motor: 775 "high-torque" brushed motor
Steering Servo: 20kg metal gear, digital & waterproof
Mini Servos: 0,9kg, waterproof
Radio System: 6-channel 2.4GHz radio (4.8 – 12.0V LiPo-suitable)
SCOPE OF DELIVERY:
Absima CR1.8 YUCATAN RTR
6-channel 2.4GHz radio systemm
Sticker sheet
Stabilizer Set front/rear
Cross wrench and allen keys
Manual (DE/EN/FR)
REQUIRED ACCESSORIES:
The CR1.8 Yucatan accepts a wide range of LiPo batteries and chargers which depend on the type of battery.
4x AA mignon cells are required for the radio
Optional program box for setting the parameters of the speed controller
(optional program box – item no. 2110060)